Awards:
UST won an award in HYSEA ESG Conclave 2023 for our outstanding Contributions to corporate social responsibility, environmental social and governance practices.
UST achieved best ATD's award. We received this award for our outstanding efforts in using talent development as a strategic business tool to drive results and achieve success. This recognizes our efforts and commitment to building a culture of continuous learning and growth at UST.
Recognitions:
Very recent, UST has been identified as the Leader/Rising star ISG Provider Lens™ (IPL) Quadrant study on 'Retail & CPG Services 2023'. Last year we were recognized as a Product Challenger, so this year's recognition is a remarkable achievement for UST and our Retail & CPG team.
Another achievement for UST is Major Contender recognition by Everest Group in their asset and wealth management IT Services Peak Matrix Assessment 2023
UST was recognized as Disruptor in the CPG Digital Services 2022-23 Radar View report by Avasant which includes superior customer engagement, business growth and productivity improvement.
UST retains prestigious Blue Seal Certification for North America and Asia Pacific from Top Employer Institute. Link for reference Certified Top Employers Search (top-employers.com)
UST recognized by one of the world's largest retailers of commitment and accomplishment of sustainability by receiving award, Giga Guru.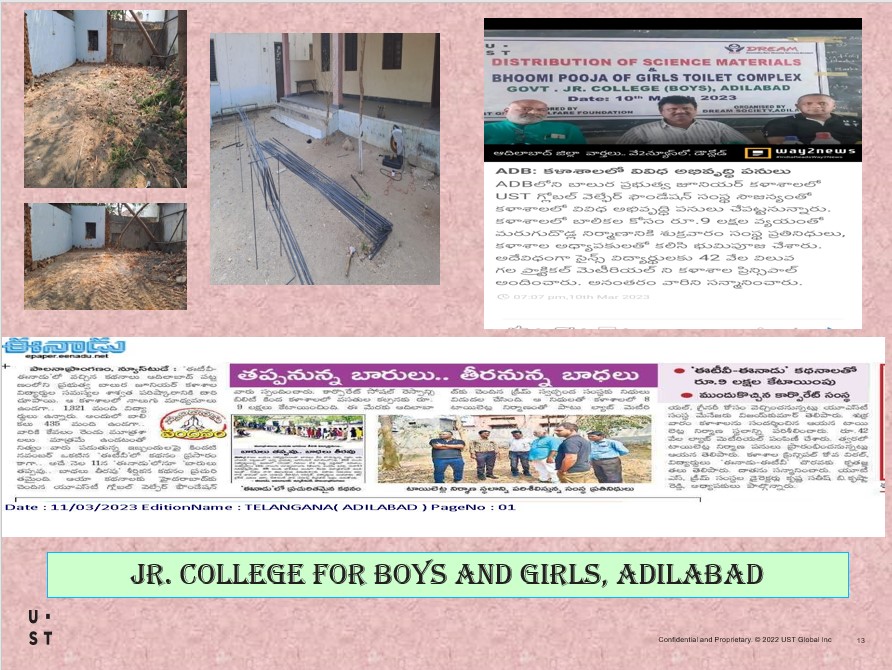 UST Acquisition: UST acquires Advantasure.
Advantasure, a technology solutions company for Medicare Plans is officially part of UST HealthProof. By welcoming Advantasure into the UST HealthProof family, company expects to enhance its support government programs, Including offering expanded solutions in risk and quality. This is just one of the many milestones that marks UST growth in future.
UST CSR Achievements:
Team CSR – HYDERABAD has identified a rural talent of 80 girl students from Ibrahimpatnam in association with an NGO Durgabai Deshmukh Mahila Sabha fort Paramedical Vocational course.
CSR Team identified a protest staged by Govt. Jr. College Boys and Girls, Adilabad for a toilet facility in their college, in association with an NGO DREAMS (Decentralized Rural Education Awareness Movement Society). We have not just supported to build the toilets for girl students but extended our continuous support in procuring their Botany, Zoology, Physics, & Chemistry Lab equipment. We have reconstructed their volleyball court as well. UST has associated with NGOs like DREAMS and ILP to support the training and learning kits for 17 Aangan Waadi's in Adilabad District.