Powered by Infosys Springboard – 1st Quarter Report
One of the kind "Faculty Development Program" in India
Project Drona identified that Faculty is the fulcrum that will ensure the wheels of education move seamlessly with "What Industry Wants". It promotes contemporary learning skills among Faculty and equip with emerging technology skills. First cohort commenced on October 1st, 2022.
The Journey to train Computer sciences and related faculty across Telangana :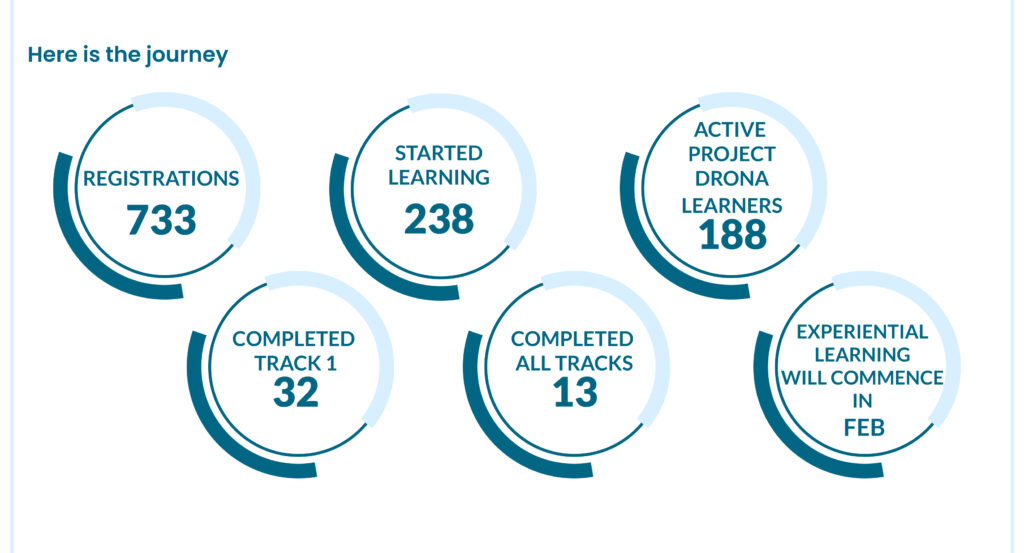 A Rippling effect – Happy to see faculty indulging in learning. Data shows that FDP has been prevalent since 20th century but the growth is still picking up. Any CHANGE requires time to become a habit and at Project Drona, we are patient, persistent, supportive to see the needle of learning move for better.
Project Drona is excited to receive encouragement and support from Industry & Government alike
A representation is made to Govt of Telangana to include Project Drona to enhance emerging technology skill in Government skill development program for faculty.
Shri Navin Mittal, Commissioner, Collegiate & Technical Education has mentioned to consider to include the program as a pre-requisite for Faculty promotion.
MS. Nikhila IAS, Vikarabad Collector was very appreciative of the initiative and expressed it as an intervention which is the need of hour.
Broadridge, Infosys, Cigniti are partnering with Project Drona to offer faculty Mentoring support and creating content.
We are preparing for the final phase of the program, Faculty Immersive Experience, where faculty will be interacting with the industry to know the project execution practices.
We welcome more corporates to join us in the faculty transformation journey. Link to know more https://hysea.in/project-drona/