9th Jan 2023:
HYSEA Started 2023 with a meaningful interaction between K T Rama Rao garu and IT Industry Leaders. More than 100 CXOs/Centre Heads attended this pertinent session and got answers to queries regarding roads and traffic, skywalks and footpaths, GHMC trade license, TSSPDCL Power category issue, Metro connectivity & expansion and other important issues.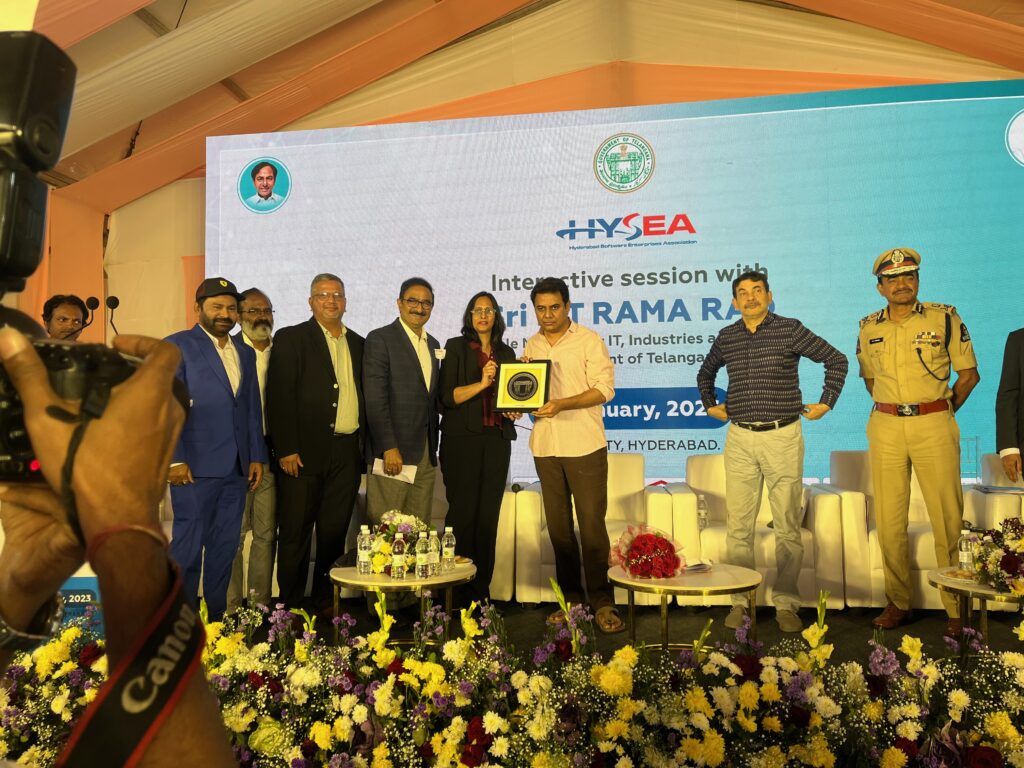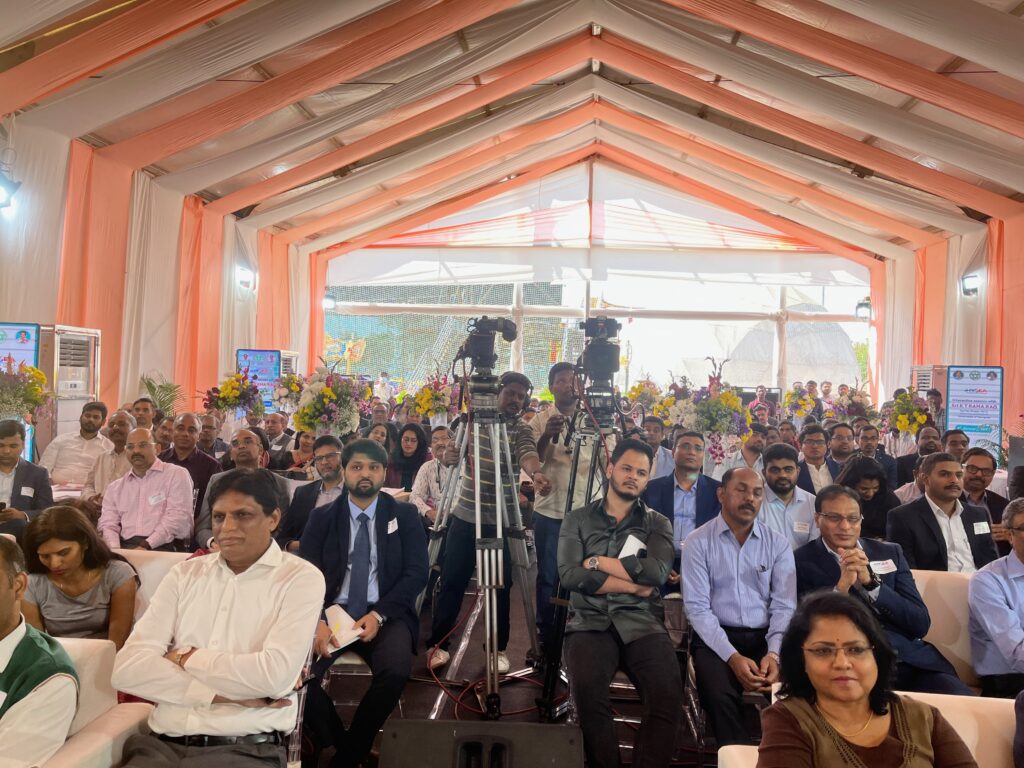 Earlier addressing the gathering Hon'ble minister credited the outcomes achieved over the last eight years to the collective efforts of the ITE&C Department and the IT industry. Minister KTR requested the captains of IT industry to look beyond Hyderabad and expand to Tier-II Cities.
Manisha Saboo, President of HYSEA in her address talked about the growth opportunity that awaits the Indian IT Industry as more than 2 million jobs are expected to be created in the next 3 years.
Principal Secretary of IT, E&C Department, Jayesh Ranjan, Cyberabad Police Commissioner Stephen Raveendra, Hyderabad Police Commissioner CV Anand, Rachakonda Police Commissioner D.S. Chauhan, MD of Hyderabad Metro Rail Limited (HMRL) NVS Reddy, Bharani K Aroll, Immediate Past President of HYSEA & CEO, Techtriad, V. Rajanna, SVP, TCS, Ranga Pothula, MD India, Infor, Prashanth Nandella, VP, HYSEA & COO, FirstSource, Ramakrishna Lingireddy, General Secretary, HYSEA & MD, Auropro Soft, Dr. Santanu Paul, Treasurer, HYSEA & CEO, TalentSprint, Kishore Borra, MD, EnergyTech Global, Hari Bharadwaj, Leadership Team, DXC Technologies, Uma Gogineni, Chief People Officer, ValueMomentum, Sumeet Mathur, Vice President & Country Head, ServiceNow, Hari Raja, Global Head, WIPRO Salesforce Practice, Chief Relations Officer Amarnath Reddy Atmakuri, Sri Madhav Reddy, Secretary, TVAGA, Oruganti Venkat, President, KITEA, Govt Officials and others attended the event.
The Hon'ble minister shared that the number of employees in the IT sector grew from 3.23 lakh to 8.7 lakh and the IT exports rose from ₹57,000 Cr to ₹1.83 Lakh Cr from 2014. "We all can take pride in these outcomes", he said.
Citing Nasscom's report, the Minister said that out of the 4.5 lakh jobs created in the IT sector in India last year, 1.5 lakh or one-third of the total jobs were added by Hyderabad leaving behind Bengaluru which created 1.46 lakh jobs. "The number of employees, employers who are looking at Hyderabad is growing. I sincerely believe that this is just the beginning," KTR said.
Speaking about the two million jobs that are expected to be created in India in the coming years, the IT Minister said that the State government will continue to closely collaborate with the industry to latch up the opportunity. He appealed to the industry leaders to look beyond Hyderabad and expand their operations in Tier-II towns of the State, and urged them to point the State government to new opportunities, prospective investors. Asking them to guide the State government in a way that local youth get the bulk of the jobs, KTR said that the State has been working to see how partnership between industry and academia can be formed.
On the occasion, he spoke about the mobility, digital and other infrastructure created by Telangana government since 2014. Also, KTR said, technology that doesn't benefit the common man is futile. "Telangana tops the list of States in the metric of per capita e-transactions offered through MeeSeva. First State to use facial recognition to renew pensioners' life certificates, and in local body polls," he said.
The Minister also spoke about the robust innovation ecosystem created by Telangana Govt that includes T-Hub, WE HUB, Telangana State Innovation Cell (TSIC), WASH Hub, T-Works and others. He informed them that B-Hub for Biotech & Life Sciences Industries is in the pipeline and that T Works will be inaugurated this year.