The theme of the networking event was, 'Aspire More: Planning for a Stellar Career'
HYSEA Women Leaders Forum organised a Networking Meeting on Thursday, 30th June, 2022 at Tech Mahindra Infocity campus.
The  networking meeting was an excellent opportunity for the 80+ Women Leaders in attendance to understand the nuances of career planning from accomplished women leaders. Moderated by Uma Gogineni, Chief People Officer, Value Momentum with panel consistied of Sylvia Smetana, Founder, Divershefy Club and Manisha Saboo, President HYSEA, Infosys campus Head, Hyderabad & Indore. Uma Gogineni said that the networking event is a kick off among the interventions planned for women to step up in the corporate ladder.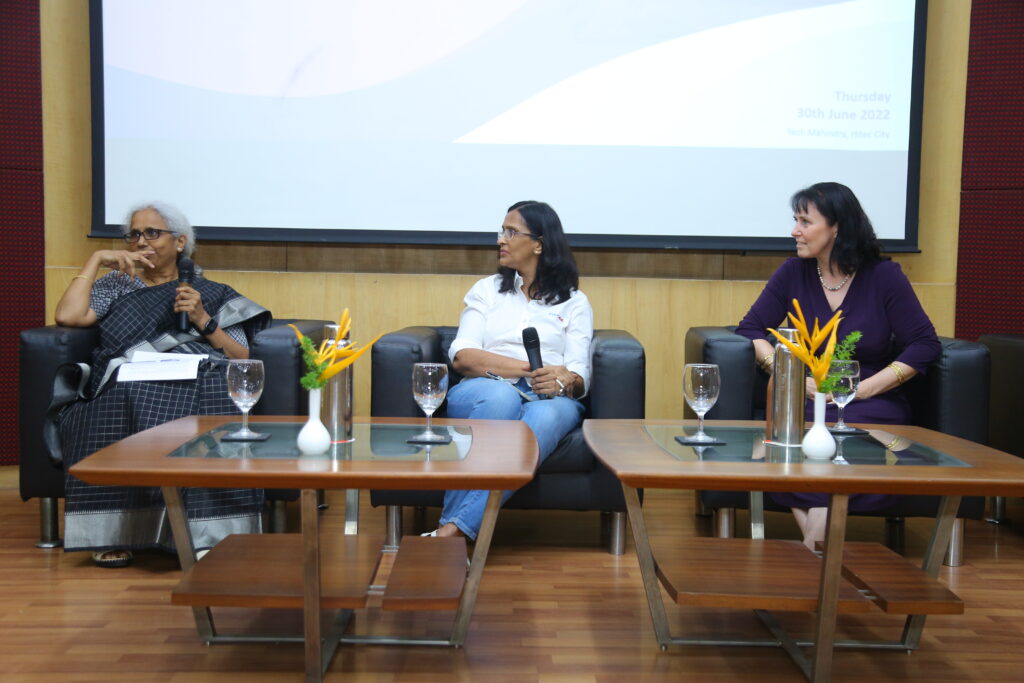 These Interventions are planned for all important stages of a women leader's career path:
Ignite Spark for entry level women associates
Aspire more for mid level managers
Inspire her for Senior leader
Uma chose an interesting way to introduce the panelists with rapid-fire questions.
It was inspiring to hear Manisha say that she came from a humble background going from a Govt school to REC to Stanford. She saw career growth after 13 years of struggle. In the pursuit of achieving goals, she finds partnering with the eco-system that includes family, domestic help very essential. While leading teams she brings a servant Leader attitude to the table. Her advice to the audience to dream big and break down goals to smaller chunks resonated with many women in attendance.
A persistent professional is the most recent compliment she received which ignited a discussion on how women are looked upon as aggressive when they speak up. Her clear advice was to have clarity in your head and shine through your work, nothing else matters.
Sylvia ignited thoughts by calling Indra Nooyi her inspiration & husband's great support system. She said when you become a leader it's no more about you. She believes in directing teams when they need support and calls herself a collaborative leader. She advised aspiring women to consciously plan their career trajectory.
Following introductions, Uma had a Q & A which was interactive. The panelists related the questions to anecdotes from their work and life. Many participants added their experiences and opinions during the discussion.
How should women plan their career?
Manisha said she believed in visualizing the end goal and had taken the support and guidance of everyone around her in planning and building her career.
Sylvia quoted "Vision & Visualize" is key to career building. She reinforced the need to take support from mentors, managers, maids & family. At this juncture Flavia of Franklin Templeton shared her experience of taking the support of Divershefy coaching to realise her goals.
Uma's next question led to intense discussion. Should career growth be planned. Should the career move be lateral and/or horizontal?  
Sylvia & Manisha echo the same thoughts on this question. They said lateral moves are as important as horizontal. Lateral trajectory contributes to learning, due to greater exposure, organizational visibility, connections and growth, eventually leading to horizontal growth.
This followed Uma's intriguing question on failure that sparked a debate. Should women take on challenges only when they are 110% sure ?
Manisha advised not to hesitate to fail, she added to take failure as an experience and move on. She suggested being on the radar to raise opinions when required and get noticed. Sylvia further added to get away from the imposter syndrome and grab the opportunity. She advised to take risks if you fail, it adds to experience and builds resilience.
On a question from the audience to coach women to think like men so that cohesive groups exist. Sylvia said Divershefy is Coaching more women to step up to C Suite. She does not see a need for women to think like men. She believes the board rooms must be more inclusive and non-gender specific so that everyone understands others' point of view and diversity exists.
Uma's concluding question was how should organizations support women's growth? Suggest some practices that can be immediately deployable.
Manisha said make opportunities available, provide support systems like childcare, create conscious networking events, encourage them to look for networks beyond organizations. Identify few women star performers in your groups and mentor them.
As a surprise element 3 participants were recognized for contributing to thought provoking and constructive conversations. They were given a token of appreciation.