25th August 2022
Curriculum Mastermind is an intervention by HYSEA to develop the employability skills of students in the State OF Telangana in collaboration with TASK which has the maximum reach to academia in the state.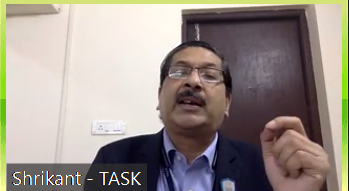 Objective
To make suggestions to augment the current academic curriculum with industry-relevant topics to increase employability in emerging technologies in IT industry
To share industry best practices and expectations so that students are ready for the industry when they step out of campus
How does it work:
Curriculum mastermind works towards helping academia prepare students to be industry ready. A consultative advisory approach is taken. Industry practicing experts support the intervention as Subject Champions. The Champions serve as Consultants to provide curriculum advice on topics that are necessary to be ready for employment. Their advice includes strategies for delivering the topics. 
The intervention was launched in July 2022. A pilot consultation meeting was conducted on 25th August 2022.
Shrikanth Sinha, Chief Executive Officer at Telangana Academy for Skill and Knowledge, Hari Raja, Curriculum Mastermind, Intervention Leader, Member of Managing Committee HYSEA, Global Salesforce Practice Head at Wipro Limited, Abhinav Gupta, Vice President, Product Management, State Street for Product Management, Vengal Reddy Eggonu, Data Analytics Champion, Principal Product Architect at Infosys Limited, Gopinadh Bapatla, Data Analytics Champion, Senior Technology Architect, Infosys Technologies Limited, and Murughanandam Sivasubramanian, Cloud Computing Champion, Senior Director, Software Engineering, OpenText for Cloud Computing were present for the pilot consultation meeting.
Six colleges have been identified for the pilot. Head of institutions and faculty dealing in IT/CS and related subjects have attended the meeting from Engineering & degree colleges. The Champions presented the curriculum recommendations in 3 subject tracks of Product Management, Data Analytics, and Cloud computing. Colleges enthusiastically participated. They inquired if Industry could provide Masterclasses on emerging technologies and internships. Giriraj Govt Degree college has come forward to adopt Cloud Computing curriculum subject track intervention.