Corporate Awards
Cigniti won the following prestigious awards and recognitions in April-June 2023
Cigniti's groundbreaking test automation IP, iNSta™, has been recognized with the esteemed Bronze Stevie Award in the Low Code/No Code Platform category at the 21st Annual American Business Awards®. iNSta has also been named a Winner of the People's Choice Stevie® Award for Favorite New Products in the No code/Low code category.
Cigniti's IoMT Automation Framework has been honored with the "Best IoT Healthcare Platform" Award at the 7th annual MedTech Breakthrough Awards program in 2023.
Cigniti's CSR initiative Project Cignificance won the 2023 Hysea CSR & ESG Award in the Education Category for the impactful work on "the school intervention program" supporting 3000+ students in 9 Government schools.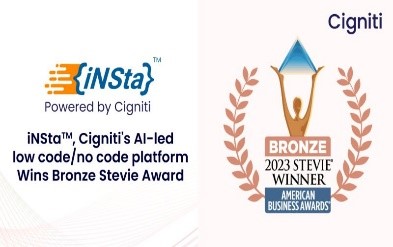 Corporate Recognition
Recognized as a Great Place to Work for the second consecutive year by the Great Place To Work® India. Cigniti's ethical work culture and humanity-first approach, which inspires innovation and opportunities, helped the organization secure this placement.
Analyst Recognitions
ISG (Information Services Group) recognized Cigniti as a "Product Challenger" and "Contender" in the US and Europe Regions in the ISG Provider Lens™ Digital Engineering Services 2023.
NelsonHall recognized us as a Leader, Innovator, and Major Player in the latest NEAT assessment report titled "Quality Engineering, 2023."
Cigniti's IP: Zastra™ has been mentioned in Forrester's report "The Computer Vision Tools Landscape, Q2 2023 report."
Wider Societal Impact
As part of the ongoing CSR initiatives of Cigniti, under "Project Cignificance," the company continued to focus on Education, Health care, and Sustainability to create a larger social impact.
We inaugurated a SMART classroom to support 500+ girls at Zilla Parishad Girls' High School in Hyderabad.
Cignitians had a fulfilling volunteering day experience at "Shantiniketan" – The Home for Individuals with Cognitive Disabilities. The team spent a day with more than 60 specially abled residents as part of our Corporate Social Responsibility initiative, "Joy Of Giving."
We organized a Gynecologic Cancer Awareness & Screening Camp on International Health Day at Musheerabad, Hyderabad. 100+ women from marginalized communities received free screening.