Areteans Shines at the India New Zealand Delegation 2023, Spearheading Cross-Border Collaborations
In a testament to Areteans' commitment to global partnerships and innovation, Gaurav Mathur, the Chief Operating Officer of Areteans, stood at the forefront of the New Zealand Delegation to India 2023. Held in New Delhi from 27-31 August 2023, the event brought together over 50 distinguished businesses from New Zealand, under the aegis of the India New Zealand Business Council, Auckland Business Chamber, TradeWorks NZ, and EMA.
Gaurav Mathur, COO of Areteans and a prominent figure in the technology and innovation space, represented Areteans with grace, contributing significantly to the delegation's success. The event witnessed the presence of eminent personalities, including the Mayor of Auckland, Wayne Brown, Michael Fox (Chair, INZBC), Catherine Beard (Director, BusinessNZ), Brett O'Riley (CEO, EMA), and Simon Bridges (Chief Executive, Auckland Business Chamber), among others.
At the heart of the event were discussions on investment prospects in India, forging global alliances, and celebrating the synergies between the Indian and New Zealand economies. Gaurav Mathur's participation in the INZBC Summit Conference 2023 was a pivotal moment, where he shared invaluable insights on cross-border collaboration strategies. Alongside Anand Jha from Pegasystems, he presented a compelling case study on the transformative power of digital solutions, particularly focusing on Pega's role in driving innovation within the India-New Zealand business ecosystem.
The INZBC dinner provided a unique platform for Areteans to engage with the New Zealand High Commissioner and other influential stakeholders, fostering deeper connections and mutual understanding.
Areteans' active involvement in this prestigious event not only underscores the company's dedication to advancing global partnerships but also highlights its role as a trailblazer in digital transformation. This achievement stands as a beacon of pride for Areteans and its associates, as they continue to drive innovation and collaboration on a global scale.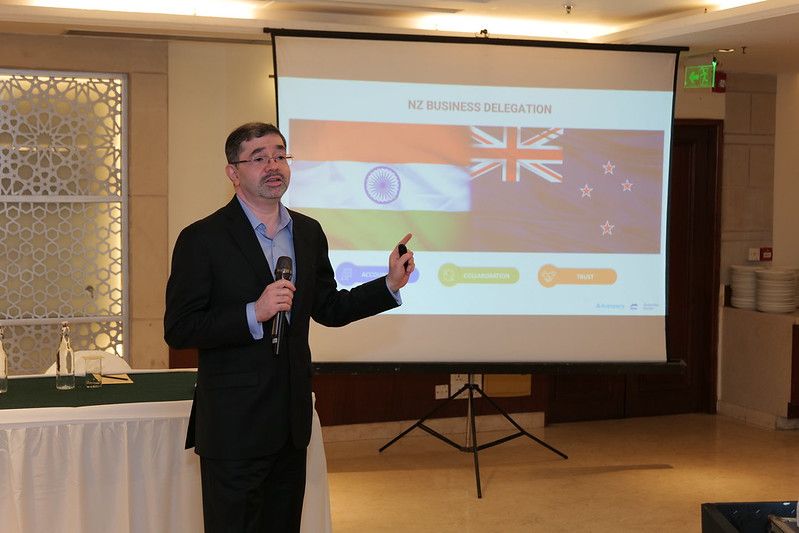 Mahesh Kumar Agrawal, CEO of Areteans, Receives Influential Leaders of India Award 2023
Our Co-founder and CEO, Mahesh Kumar Agrawal, recently received the prestigious Influential Leaders of India Award 2023. This honour, presented by MarksMen Daily in partnership with ETNow, Business Standard, and in Focus Magazine, recognizes Mahesh's outstanding leadership in his field. The award ceremony was a memorable event, attended by luminary figures from various industries. The evening was made even more special with a keynote speech by Kiran Bedi, the distinguished Former Lt. Governor of Puducherry and the first woman to join officers' ranks of the the Indian Police Service.
The award was the result of a thorough evaluation process. Over 3,000 people from major Indian cities took part in a detailed survey. They assessed leaders on different qualities, including how well they manage relationships, their emotional intelligence, and their ability to create a positive work environment. Mahesh's leadership skills were evaluated on these important aspects, earning him an impressive 'Overall Rating' of 8/10 and an outstanding 'Brand Trust Score' of 30/40.
This recognition highlights Mahesh's unwavering commitment to excellence, leaving a lasting impact on our organization. We are incredibly proud of this achievement and find great inspiration in Mahesh's exceptional leadership. His vision and dedication continue to drive us towards even greater success, setting a high standard for the entire industry. We celebrate this milestone and look forward to the future accomplishments that will undoubtedly come under Mahesh's guidance.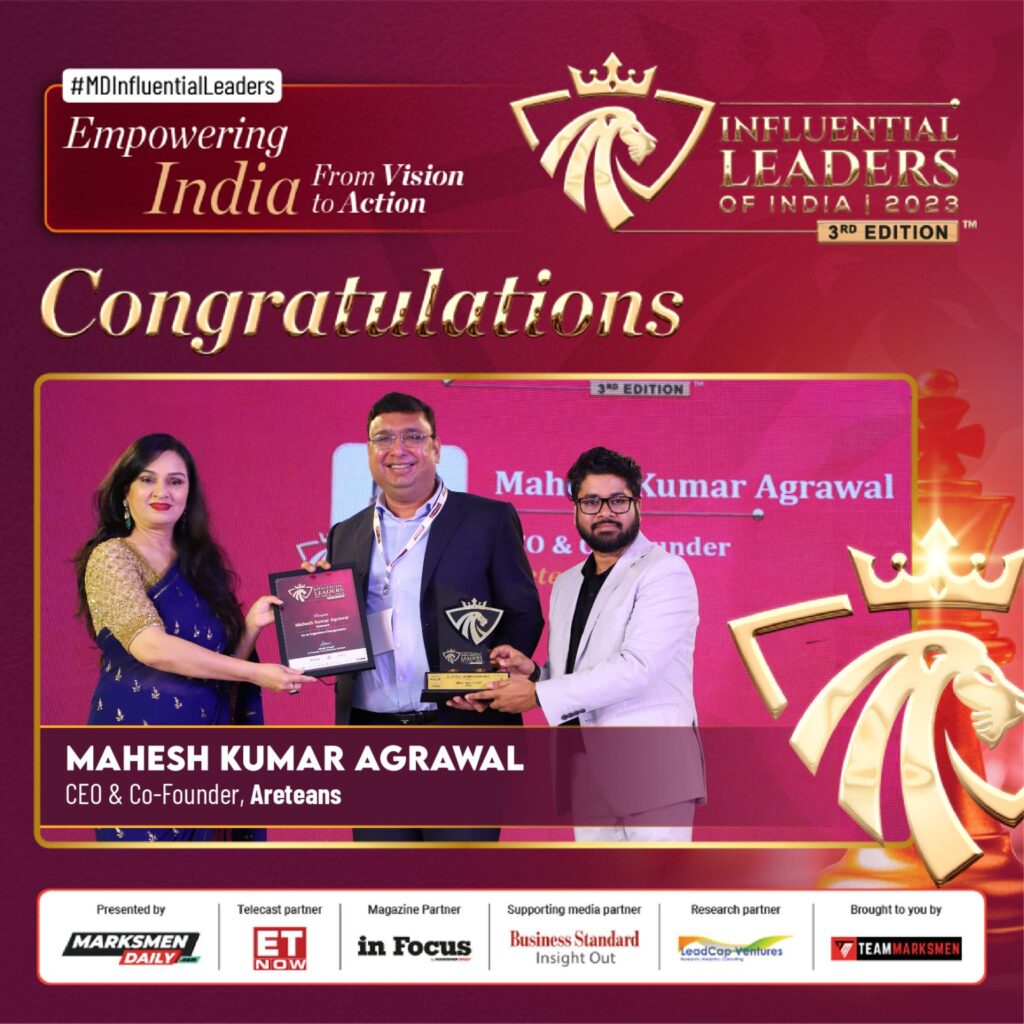 Mahesh Agrawal Honoured with PNV Showcase Odisha – Odisha Achievers 2023 Award
In a momentous recognition of his exceptional contributions, our Co-Founder and CEO, Mahesh Agrawal, was conferred with the esteemed PNV Showcase Odisha – Odisha Achievers 2023 award on September 24, 2023. This accolade celebrates individuals of Odisha origin who have ventured beyond their roots to establish thriving ventures, all while nurturing a deep commitment to give back to their homeland.
Mahesh Agrawal's journey is an embodiment of relentless determination and visionary leadership. His profound passion for digital transformation and business intelligence has been the driving force behind our success at Areteans. With over two and a half decades of unmatched proficiency in Pegasystems, Mahesh has emerged as a luminary figure in the industry.
Under his guidance, Areteans has blossomed into a global powerhouse, boasting a robust team of over 800 professionals worldwide. Mahesh's unwavering commitment to excellence permeates every facet of our organization, setting the gold standard for leadership.
Beyond the boardroom, Mahesh's roots in Odisha hold a special place in his heart. This award not only recognizes his remarkable achievements but also underscores his dedication to his homeland. Mahesh's success story serves as an inspiration not just for us at Areteans, but for the entire industry.
Mahesh's visionary leadership and unyielding commitment to excellence continue to chart a path of inspiration and success for us all. This award is not just a recognition of Mahesh's achievements, but a testament to the indomitable spirit of Areteans. We look forward to many more milestones under his stellar leadership.