25th May 2023 –
A well-attended seminar that provided "the aspects of talent to focus" in these uncertain times of economy. By the end of the seminar, the business and HR leaders in attendance started to ponder about "HOW" to navigate the talent strategy inspite of India's supremacy as a Talent powerhouse. The "HOW" is so important because each organization's priorities and their requirements are unique.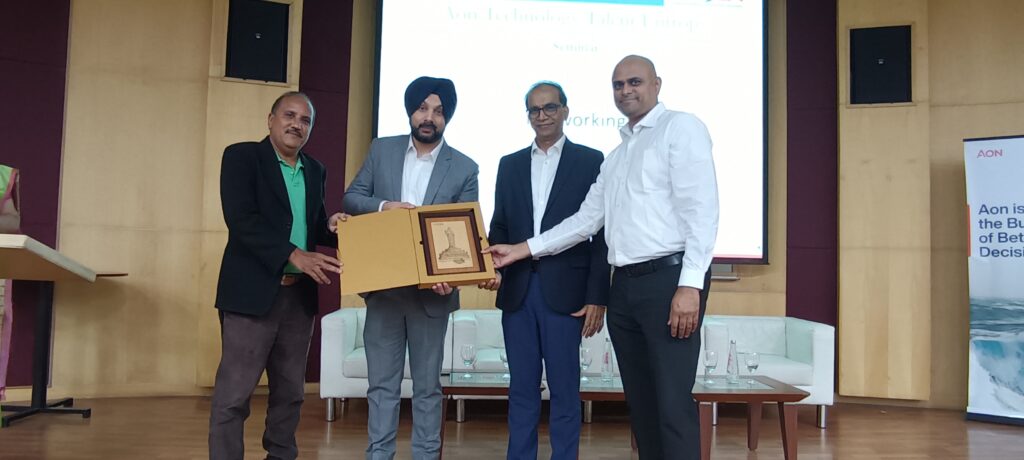 Anirban Gupta, Aon, Partner Human Capital Solutions presented the global scenario of the impending recession with reference to economic growth & inflation, with good news that the Tech industry, as history shows has always reacted positively in times of economic uncertainty and there is a massive opportunity in disguise for India.
Jang Bahadur Singh, Director & Industry Lead, Rewards & Org Design, IT/ITeS presented hot skills within technology & non-technology jobs, the current talent demand vs supply situation and how tier 2 cities are contributing to talent needs. The report covered how attrition is looking and situation of offer decline ratios & with the recent layoffs what are the expectations from employees.
The audience were very interactive with curious questions on talent management strategies based on location, cost and retaining key talent.
Vinay Agarwal, Vice President, Business HR at Tech Mahindra in his welcome address emphasized the skills to develop to deal with the fluid times and stay relevant.
Ramakrishna Lingireddy, President, Auropro, General Secretary, HYSEA emphasized the importance HYSEA attributes to knowledge exchange for growth of the industry. He presented data points from the recent survey conducted by HYSEA on return to work & hiring trends. He mentioned that HYSEA makes continued efforts in bringing insights to be better prepared for the future of technology, business & work.