ABSYZ Awarded For The Best IT Consulting Services By Times Group
Continuing with the tradition of excelling in all activities, ABSYZ Software Consulting Pvt Ltd has won the Times Business Award for 2022 to be recognized as the best IT Consulting Service Provider. It is a memorable achievement and a great honor and validates our efforts through such a prestigious organization.
Optimal Media Solutions, a Times Group Company, organized the 8th edition of Times Business Awards 2022 at the Novotel Hyderabad Convention Center (HICC) in Hyderabad. And the event was a show of glitz, entertainment, and glamour. It was an award to the persons and organizations making great strides in their domains.
ABSYZ keeps customers at the core of all endeavors and provides suitable solutions for Salesforce.com. It's about going the extra mile and creating customer satisfaction. It has gained recognition in the past and is now on the Times' list of commendable achievers. Such awards are meaningful, impactful, and a treasure for years to come and help us to be more committed to excellence and renew our team efforts. ABSYZ has tackled all challenges and dared to soar by adopting a can-do attitude to make a difference. This award is proof of its concerted attempts to reach the height of its potential.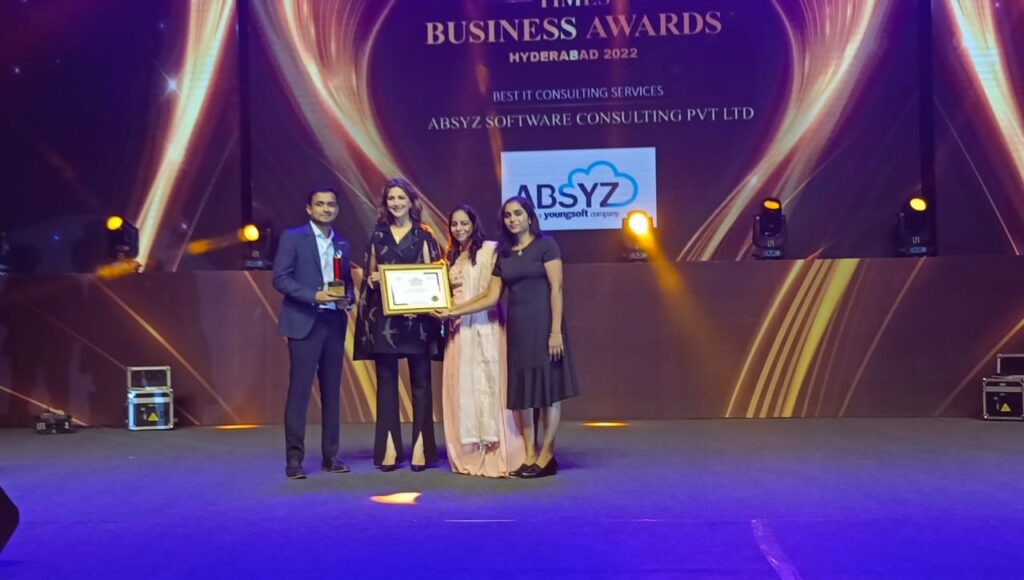 About ABSYZ Software Consulting Pvt Ltd
The journey of ABSYZ began in Hyderabad 11 years ago on 18th August 2011, with the vision and spirit of two youths keen to make a mark and evolve with time. After eight years of solid growth as a Salesforce Implementation Partner and with a CMMI Level 3 accreditation,
Youngsoft Inc Michigan acquired ABSYZ's majority share in 2019. Soon after, in 2011, ABSYZ opened an office in Dubai. 400+ committed and passionate employees are among the top companies in their category to offer services. ABSYZ also bagged the Great Place to Work certification three times in a row (2018/2019/2020).