5th August 2023: HYSEA Organised the 40th Edition of its Award-Winning Flagship Leadership Development Program, exclusively for Women Leaders. The program is tailored to encourage women to aspire, plan and step up to senior management role. A truly, unique program facilitated by the CXOs, who bring their experiences as stories to provide an everlasting learning gain.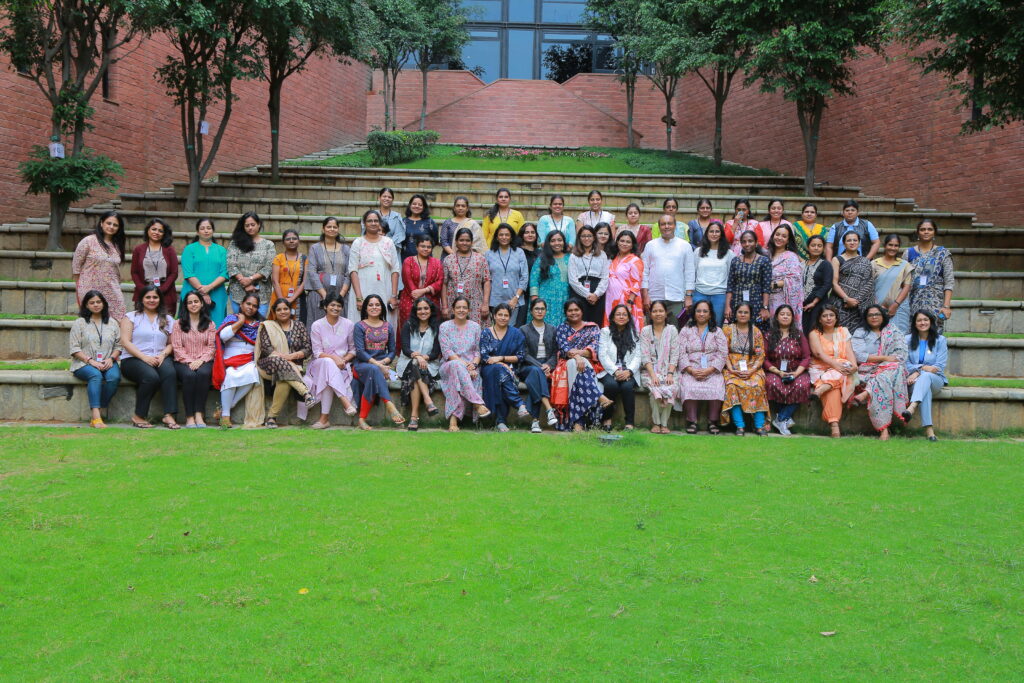 Given that the IT Industry is a knowledge industry committed to inclusivity and gender equality, HYSEA Leadership has focused on and created interventions to improve opportunities for women to move into leadership positions. This thought process resulted from an exclusive woman-focused Leadership Development workshop launched in 2009.

This exclusive program tries to bridge the gap between the number of women in the workforce and those in senior positions. It sensitizes them and widens their business horizons to take up challenges in senior roles. The content of the course has been tailored to suit the specific needs of the women workforce and helps them experience their leadership potential. While Education is the primary focus in traditional training sessions and experiential learning is attempted in most workshops, the uniqueness of this Leadership Workshop lies in the Exposure it provides to participants. The sessions also reinforce the fact that there are many shades of grey, and nothing can be right or wrong. At the end of the workshop, participants realize that there is no formula for Leadership; the only thing common between leaders is that they are all different!

More than 60+ mid to senior-level women leaders from 30+ member companies participated in the 3-week program held on 5th, 12th, and 26th August 2023.

Ms. Shikha Goel, IPS, Additional Director General of Police and head of Women Safety Wing of Telangana State Police, inaugurated the program. She engaged participants in a discussion about her career journey. She shared lessons on Leadership encompassing several important aspects including Courage and Confidence, Resilience, Problem Solving, Empathy and People Management, Decision Making, Delegation and team Empowerment, and Work-Life Balance.

Other Industry Leaders who facilitated the program included:
V Laxmikanth, Managing Partner, Pavestone Capital
M. Narsimha Rao, Ex-EVP, Infosys & Past President-HYSEA
Dr. Santanu Paul, CEO TalentSprint
Amit Mitra, Chief Operating Officer, Broadridge India,
Yogesh Agiwal, Founder-Crossover Leadership
Isaac Rajkumar, SVP & MD Realpage
Dr. Kiranmai Pendyala, Head of HR, UPS
Kishore Borra, MD, Energytech Global
Flt Lt Bipin Chandra Pendyala, Senior Director and General Manager, India
Surabhi Sharma- Lead, Site Strategy & Culture Programs, Google Hyd, Delhi & Mumbai
Amit Agarwal – Director of Customer Sales Activation, Google
Saradhambika Kameswaran- Lead, O&P Services & Facilitator for I Am Remarkable, Google
Jignesh Talasila, Co-founder & CEO, PerspectAI
The valedictory session of the program was held on 26th August 2023 and Manisha Saboo, President, HYSEA & VP and Campus Head – Hyderabad SEZ & Indore, Infosys Ltd., delivered the valedictory address and gave away certificates to the participants.