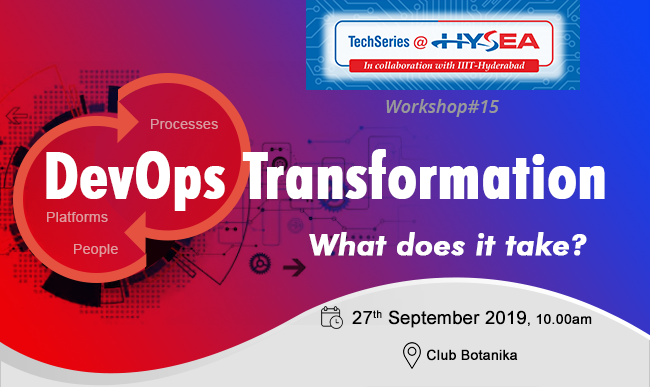 | | | |
| --- | --- | --- |
| Dear Member, | | |
HYSEA is happy to bring you the 15th Workshop as part of its flagship TechSeries@HYSEA initiative in collaboration with IIIT-H, on DevOps on 27th September at Club Botanika. The Workshop will be facilitated by Kaushik K, Enterprise Architect & Software Development Senior Specialist Advisor, at NTT Data Services.

Transforming to a DevOps culture is a journey impacting three key dimensions - Processes, People and Platforms – across the enterprise. This session is intended to help you understand the business drivers for a transformation, how to get started, essentials to keep in mind to ensure a smooth transition, common challenges that you are likely to face during implementation and how to measure and drive adoption. Experience is undoubtedly the best teacher and the session would focus on insights and lessons learnt from prior client implementations.
Kaushik K
Enterprise Architect & Software Development Senior Specialist Advisor, NTT Data Services

Kaushik has over 17 years of IT experience spanning development, support, project management, delivery management and practice management. At NTT Data Services, Kaushik has been part of Content management, WebApps and DevOps practices. At present, he is a continuous delivery process consultant as part of the ADM DevOps practice. Prior to NTT Data Services, Kaushik was part of Dell IT and has managed project delivery in primarily Corporate Applications, Manufacturing and Supply Chain domains.

Target audience
- Enterprise Architects
- Delivery Managers / Program Managers
- DevOps Solution Architects

Agenda
10.00am
- Why DevOps – Triggers / Business
Drivers
- Guiding Principles for DevOps
- DevOps in the enterprise – Where does
it fit in?
- Transformation Levers
- Transformation Essentials
11.30am – TEA BREAK
11.50am
- Getting started
- Common challenges
- Customer story
1.50pm – LUNCH
For more information or help with Registration please write to us at