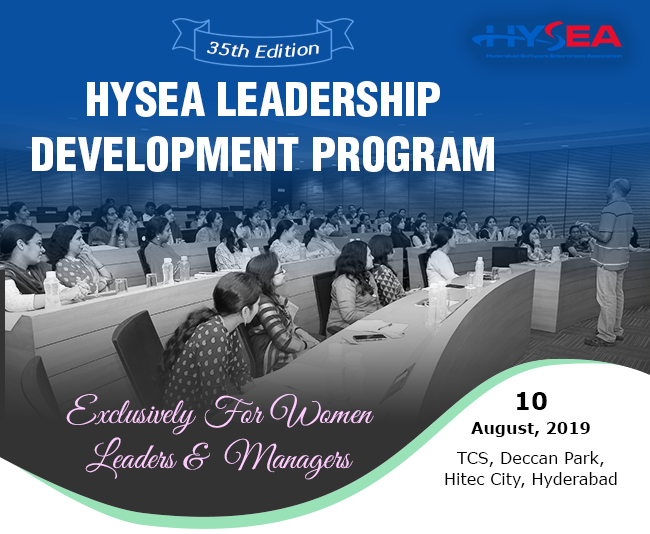 The program spans Four Saturdays

The program spans
Four Saturdays

10
AUG 2019
17
AUG 2019
24
AUG 2019
31
AUG 2019
Each day will be typically scheduled from 9.30 AM to 4.30 PM with tea breaks and lunch break. Tea and Lunch will be served as part of the program
Dear Member,

We are happy to announce the 35th edition of HYSEA Leadership Skills Development Workshop, Exclusively for Women Leaders and Managers commencing from 10th August, 2019 at TCS, Deccan Park, Hitec City, Hyderabad
Inaugural Address By

Ms. Karuna Gopal
President, Foundation for Futuristic Cities, MRICS | UK
IVLP Fellow (US Department of State)
John F. Kennedy School of Government | Harvard University, USA
Member, BJP National Manifesto Sub-Committee
PROGRAM OVERVIEW
& CONTEXT
This Award winning workshop is designed to help aspiring Women leaders achieve their personal best and improve their effectiveness in a leadership role. It is based on the principle that, learning happens through Education, Exposure and Experience. While Education is primary focus in traditional training sessions and experiential learning is attempted in most workshops, the uniqueness of this Leadership Workshop lies in the Exposure that it provides to the participants. It gives you an opportunity to hear from leaders that the industry looks up to, and learn from their experiences on a variety of subjects which impact your jobs every day.

PROGRAM OVERVIEW
& CONTEXT
Participants will be exposed to presentations, real life examples, case studies, discussion, role-play, group exercises, etc., and will benefit through continuous learning and networking with peers from different member companies, during the program. Most of the sessions will be delivered by practicing business leaders (CXOs, VPs, Directors, etc) with vast experience in business development, people management, finance, marketing, sales, delivery etc. They will bring real world and practical examples to the audience which no text book can capture.


TARGET AUDIENCE
This program is for women leaders only. Mid-Level Managers, Senior Individual Contributors aspiring to move into leadership roles, Team Leads who are aspiring to move into bigger leadership roles and who are keen to understand & practice the Leadership nuances. Average work experience should be minimum 10 years. A maximum of 45 participants will be accepted in this batch. A maximum of 2 associates per company on a first come first served basis.



PROGRAM CONTENT
The Topics that are typically covered are:

Strategic Thinking
Execution Skills
Art of Personal Branding
Performance management and Career Development
Empowerment and Employee
Engagement
Conflict Resolution
Leading High Performance Teams
Innovation and Entrepreneurship
Decision Skills
Integrity & Ethics in Leadership
REGISTRATION
The nomination is restricted to those member companies who have paid their Annual Membership Fee for the year 2019-20. While participation for all HYSEA training programs is free for member companies, each member company can nominate maximum Two associates with a refundable deposit of Rs.5,000 + 18% GST per participant by cheque drawn in favour of "HYSEA". Note the deposit amount will be refunded after the completion of the program, provided a participant attends all the modules without fail and completes the program successfully. It is also mandatory for participants to share the feedback on each session in order to qualify for successful completion and refund of the deposit amount. Participants who register and do not show up on Day 1[10th August, 2019] will not be permitted to attend the program and their deposit amount will be refunded to the sponsoring organization. If participants do not meet the full attendance and feedback requirements, the deposit amount will NOT be refunded. Please find the nomination form attached. The completed forms along with payment may be sent so as to reach HYSEA office at the address mentioned below by 31st July, 2019.
HYSEA (Hyderabad Software Enterprises Association), TSIIC-IALA Bldg,
1st Floor, Road No: 4, Cyberabad Zone, Hitec City, Phase II, Madhapur, Hyderabad - 500081

Each successful participant will also be given certificate of participation. The nominations will be scrutinized and the selected participants will be informed through e-mail.
The entire registration process will be closed by 5th August, 2019.
For more information or help with Registration please write to us at
hysea.in