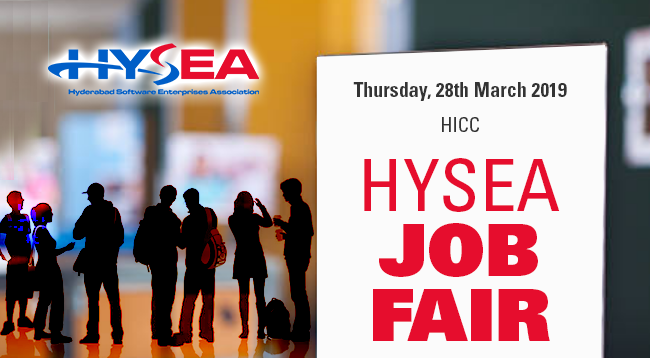 HYSEA is happy to announce its first ever JOB FAIR for fresh Engineering graduates(B.Tech/B.E) and MCAs who have passed out in the year 2017 and 2018 and will be ready to join immediately upon offer.

SCREENING PROCESS FOR STUDENTS
HYSEA will pre-screen Fresh Engineering graduates(B.Tech/B.E) and MCAs and offer them to IT/ITES Companies for Placement.

THE PRE-SCREENING PROCESS
All applicants (only candidates passed out in 2017 and 2018) will be filtered initially based on academic performance.
As a next step, candidates will register with HYSEA and go thru an online MCQ test of very high standards comprising Analytical, Quantitative, Coding and English skills. This test will be conducted and supervised in a professional manner by a reputed testing agency under HYSEA supervision.
Candidates shortlisted from the online test will be put thru Group discussion(GD) to evaluate communication skills.

Shortlisted candidates from GD stage will be invited to the fair and presented to the registered companies participating in the fair.

REGISTRATION PROCESS FOR COMPANIES
All companies interested in participating in the JOB FAIR will be required to Register Online and pay registration fee as follows:

HYSEA Members – Rs. 1000
Non Members – Rs. 2000
To encourage Start-ups(companies in existence for less than three years) to be part of Job Fair, HYSEA has waived the registration Fee:
Start-ups - FREE
All registered companies will get a 3mx3m stall and sufficient number of interview booths will be made available. All Start-ups will get a 2mx2m stall.

KEY POINTS TO BE NOTED BY PARTICIPATING COMPANIES

In the job fair, each participating company will be given a booth space. Only shortlisted candidates will be invited to attend the job fair. Candidates will go around and participate in initial discussions with companies of interest to them. Interviews either in the booth or in the interview cabins may take place. Aternatively, Companies may invite select candidates to visit their offices in subsequent days to attend any further tests before company decides on job offers.
HYSEA does not insist on job offers be made on the spot. It is entirely up to the companies to decide if they want to release an offer on the same day or do so after further tests/interviews in their premises with shortlisted candidates. They are expected to complete this process in two weeks. It is possible that a candidate may receive multiple offers from different companies.
To maintain job fair related records, HYSEA will contact each participating company after 2 weeks to find how many offers were made among the shortlisted candidates.
Candidates receiving job offers are expected to join soon after the offer is made.
We encourage IT Companies to participate in this JOB FAIR to fill their hiring needs. For any questions, please email