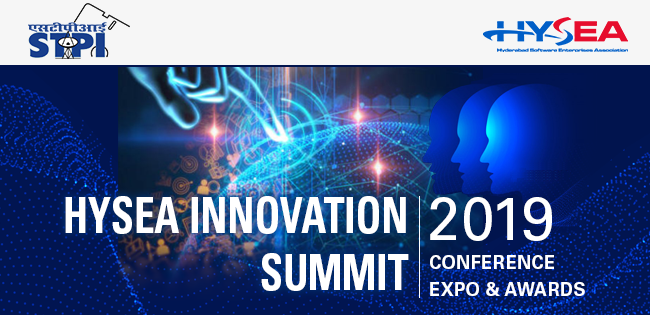 Inviting Nominations For Hysea Product Awards 2019
It gives us great pleasure in announcing the Annual HYSEA INNOVATION Summit 2019 scheduled on 1st August 2019 at HICC. The summit features the Conference, Product Expo and Annual Industry Awards. The theme for this year's event is 'Nextgen Businesses: Powered by Future Technologies'.

Businesses (Small or Large), that are aiming to lead their market segments worldwide, are turning out to be early adapters of newer technologies (read as 'digital'). They are treating these technologies as an opportunity rather than a threat or disruption. They are using a combination of internal talent and niche partners to help in this journey. They are empowering individual business units to take the lead in adopting newer technologies to create a competitive edge. And very importantly they are making the necessary cultural adjustments to ensure that the workforce stays aligned to this new way of doing business.

Our annual event this year aims to bring together such leading user organizations, technology gurus who are helping them, independent analysts / consultants to tell our audience how they see this journey happening.
KEY EVENTS OF HYSEA SUMMIT 2019
SOFTWARE PRODUCTS &
STARTUPS SHOWCASE
10.00am
HALL 3,4

HYSEA highlights and recognizes interesting product and start-ups in various categories through the product awards. Shortlisted award finalists are invited to the Expo to showcase their products, with an opportunity to interact with CIOs, VCs, &Angel investors.

CONFERENCE
10.00am
HALL 4

Nextgen Businesses: Powered by Future Technologies Conference this year will bring together leading user organizations, technology gurus, independent analysts/consultants to share how Nextgen Businesses are being powered by future technologies.

ANNUAL INDUSTRY AWARDS 2019
4.30pm
HALL 4

Honour IT/ITES companies for their major achievements in Exports, Productivity, and Product development to motivate them to do better in the future and push the benchmarks higher.

CHIEF GUEST GUESTS OF HONOR
| | | |
| --- | --- | --- |
| | | |
| VINEET NAYAR | | S. K. JOSHI |
| FOUNDER CHAIRMAN & CEO SAMPARK FOUNDATION | | CHIEF SECRETARY, GOVT OF TELANGANA |
| | | |
| --- | --- | --- |
| | | |
| JAYESH RANJAN, IAS | | OMKAR RAI |
| PRINCIPAL SECRETARY, ITE&C DEPARTMENT | | DIRECTOR GENERAL OF SOFTWARE TECHNOLOGY PARKS OF INDIA |

SPEAKERS
| | | | | |
| --- | --- | --- | --- | --- |
| | | | | |
| RAGHU GULLAPALLI | | SHIVAJI BASU | | LESLIE JOSEPH |
| EXECUTIVE DIRECTOR OF THE EMERGING TECHNOLOGIES & BUSINESS DEVELOPMENT AT LVPEI | | HEAD - ROBOTIC PROCESS AUTOMATION, TECH BU AT TATA CONSULTANCY SERVICES | | PRINCIPAL ANALYST SERVING APPLICATION DEVELOPMENT & DELIVERY PROFESSIONALS AT FORRESTER |
JAYAVARADHAN
SAMBEDU
RAVI GARIKAPATI
AMAN GUPTA
CO-FOUNDER & CTO OF CURL ANALYTICS
EX-CTO, FLIPKART AND CO-FOUNDER & CEO OF DAVINTA FINANCIAL SERVICES
FOUNDER & CEO OF BRICKVIEW STUDIOS
| | | | | |
| --- | --- | --- | --- | --- |
| | | | | |
| RAMA IYER | | DR. C. V. JAWAHAR | | ARUN KUMAR N T |
| PRESIDENT AND CHIEF PRODUCT OFFICER AT ELEVEN01 | | PROFESSOR AT IIIT - HYDERABAD | | MD & COUNTRY HEAD (INDIA) AND HEAD OF INNOVATION AT TELSTRA |
| | | | | |
| --- | --- | --- | --- | --- |
| | | | | |
| ARIJIT SARKAR | | JIGNESH TALISALA | | LATA VARGHESE |
| VICE PRESIDENT AT GOOGLE | | CO-FOUNDER & CEO OF LOOP REALITY | | VP & HEAD OF BLOCKCHAIN CONSULTING AT COGNIZANT TECHNOLOGY SOLUTIONS |
| | | | | |
| --- | --- | --- | --- | --- |
| | | | | |
| SHYAM KUMAR | | SAMEER D | | HARSHA KIKKERI |
| AVP, HEAD OF AI, BLOCKCHAIN, INFOSYS | | CSO AT FRACTAL ANALYTICS | | CEO, HOLOSUIT |
RINKESH CHHETIA

| | |
| --- | --- |
| HEAD AWS & BLOCKCHAIN INDIA FS AT CAPGEMINI | |

PROGRAM
10.00am
11.00am
12.30pm
Inaugural and Opening Industry Keynote
Panel on AI/ML and its impact on key Industry domains
Panel discussion on Blockchain - Disrupting the business processes and creating business advantage
1.30 – 2.30pm LUNCH
2.30pm
3.30pm
4.00pm
4.30pm
Panel on AR / VR: Hype or Actual Competitive Edge
Closing Keynote
TEA & NETWORKING
Presentation of Annual Awards

For more information or help with Registration please write to us at